Interested in BxB Chat?
Stop wasting your time and start getting qualified leads!
Live Chat can have a significant impact on leads generated by your website!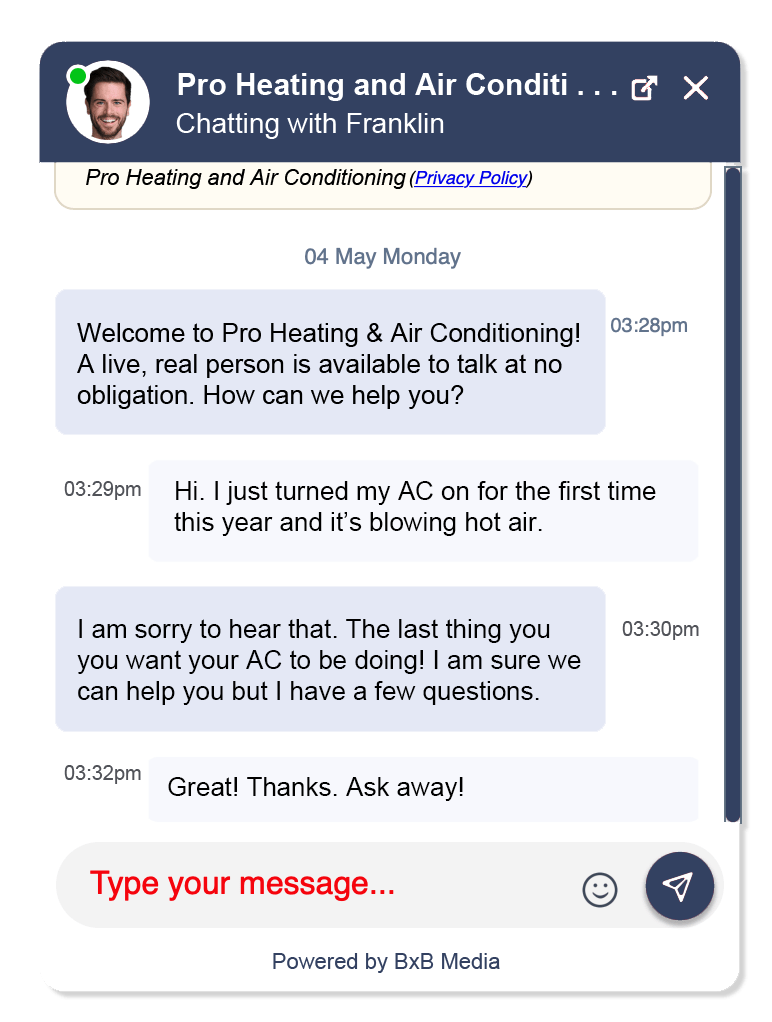 Historical data shows 30% more website conversions when using live chat and that number is only increasing.
38% of Consumers Are More Likely to Buy from a Company Who Offers Live Chat.*
Having a live person available 24/7 on your website offers a more ways for customers to contact you.
79% of Consumers Prefer Live Chats Because They Offer Instant Responses, But 21% of Live Chat Requests are Left Unanswered!*
Having a dedicated chat staff will guarantee your chats are answered so you capture all the leads possible.
*Stats from 99firms.com and superoffice.com
With BxB Chat You Only Pay for Qualified Leads!
They are NOT an existing customer
They are looking for a service that you offer
They are located within your service area
Customer provides their contact info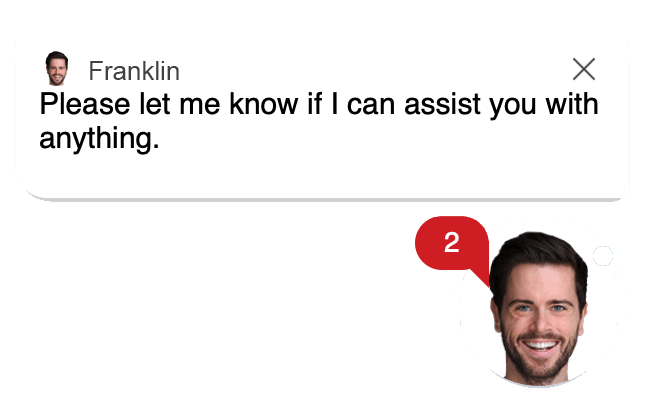 24/7
Our third-party partner employs trained home services agents who will capture leads 24/7.
Email Response
Chat transcripts are emailed to you immediately and should be treated like hot leads.
Phone Transfer
Chatting visitors can be connected to you by phone when appropriate.
Mobile Friendly
Works on both mobile and desktop versions of your site.
Customizable
Chat agent scripts, chat icon, and responses during non-business hours are all completely customizable.
No Long-Term Contracts
90-day initial commitment and month-to-month thereafter.
$100 one-time setup
$15/per lead
Monthly budget can be set and adjusted as needed.
Text-to-Chat
Your customers can text to a dedicated local phone number where the 24/7 chat agent will respond.
One time setup $100
Spanish-Speaking Chat Agents
Spanish-speaking chat agents available to assist your Spanish-speaking customers.
One time setup $100
In-House Response Toggle
Visitors to your site can chat directly with people in your office during business hours but if no one is available, the chat will automatically roll over to the 24/7 agent.
$105/month
Interested in BxB Chat?
Stop wasting your time and start getting qualified leads!